If you've been thinking of moving to South Florida, now's a good time to do it.
Yes, home prices have gone up in South Florida, as they have all over the United States during the pandemic.
But, there are many other factors that will help to counter rising real estate prices. Top of that list is the fact that
South Florida
is still much more affordable than many other cities on both coasts. Plus, mortgage interest rates remain at near historic lows, which will help homebuyers save money on what is usually the biggest purchase of their lives.
Another financial factor to look forward to when moving to South Florida is that there is no state income tax. That is another major financial benefit that will help stretch your disposable income and allow you to better enjoy the many fun activities in the Sunshine State.
There are a number of other obvious advantages South Florida holds over many other parts of the country, including miles and miles of world-class beaches, nearly 250 days of sunshine per year, and numerous entertainment options in this multicultural wonderland, including music, sports, and much more.
Before relocating to South Florida, spend some time researching cities and neighborhoods online, including browsing through listings on real estate websites. If you want waterfront property, there are many to choose from, including both single-family homes and luxury condos lining golden beaches.
South Florida Real Estate
South Florida generally refers to Broward, Miami-Dade, and Monroe Counties. When focusing on specific areas, people know that South Florida includes Miami, Fort Lauderdale, and the Florida Keys, among other locales. As the southernmost region of continental United States, South Florida stands alone in that it enjoys a tropical climate.
Hire an Experienced Real Estate Agent
Once you've familiarized yourself with South Florida, jump into action and hire an experienced real estate agent. A knowledgeable agent will be your best resource as you begin a process that at times can be overwhelming and frustrating.
Explore the Area
To feel at home in South Florida, it's important to find the neighborhood that best suits your lifestyle. Let's take a look at some of South Florida's most stunning communities.
South Beach/Miami Beach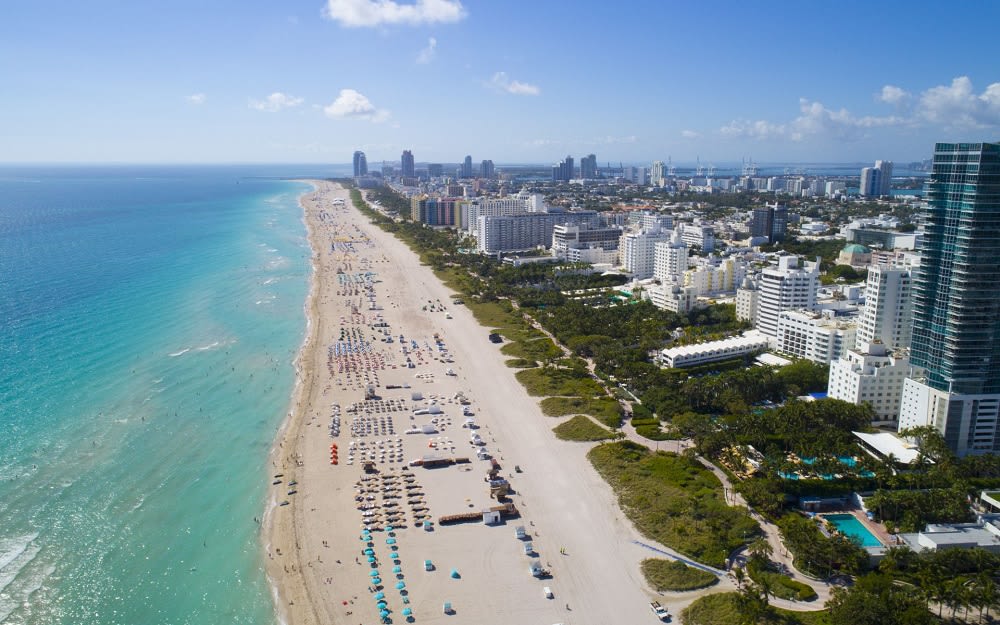 People from all around the world have heard of South Beach and Miami Beach. They can be interchangeable, but there are some specific differences. Both are fantastic places to live and enjoy South Florida's remarkable outdoor lifestyle.

Miami Beach is a barrier island between Biscayne Bay and the Atlantic Ocean, located about three miles off downtown Miami. It stretches for nine miles, and South Beach comprises the southernmost 2 ½ miles of Miami Beach. South Beach is known for its trendy nightlife and fashionable Art Deco hotels and other buildings.

The dividing line between Miami Beach and South Beach is considered to be 23rd Street.

Miami Beach has plenty of options for renting and buying, both condos and single-family homes.

South Beach is known largely for luxury condos in high-rises that tower over the beach, parks, and marinas.
Key Biscayne
Key Biscayne is a wonderful town on the barrier island of the same name that is across the Rickenbacker Causeway from Miami. Key Biscayne is a natural wonderland sitting between Biscayne Bay and the Atlantic Ocean. Its residential area sits between two large parks, Crandon Park to the north and Bill Baggs Cape Florida State Park to the south. Each park has a long beach and lush tropical forests that are home to wildlife such as turtles and birds.
Coconut Grove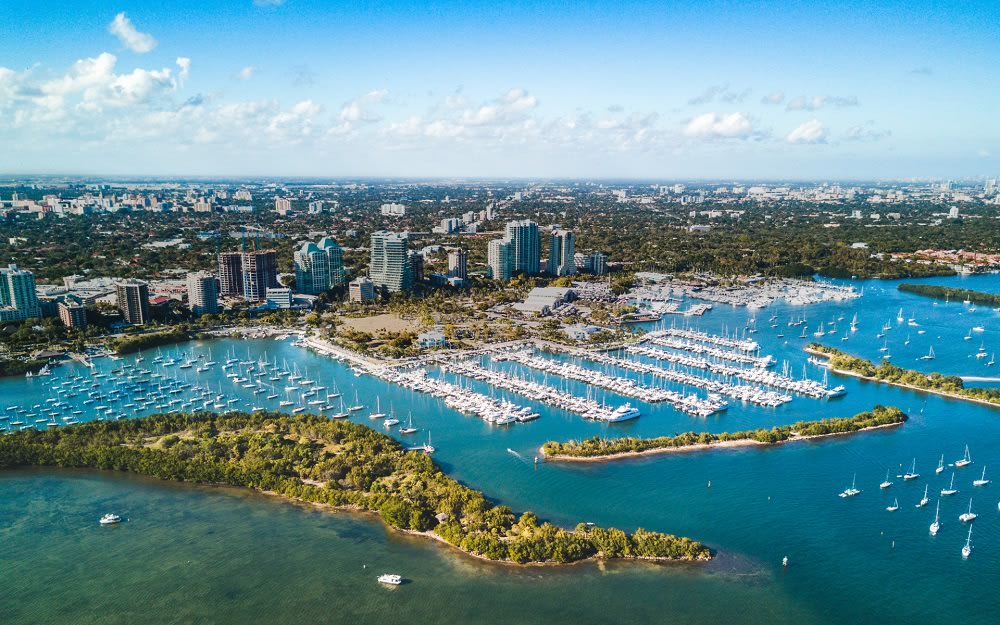 As its name implies, Coconut Grove is a lush, tropical suburb just to the south of downtown Miami. It is one of the most family-friendly areas of South Florida, with many parks, attractions, and activities. It has a remarkable waterfront that includes marinas, yacht clubs, sailing clubs, and many other attractions.
Coral Gables
Coral Gables is an upscale suburb that offers luxury living in single-family homes and condos. It is home to the University of Miami as well as many other cultural attractions. It's lively downtown and tree-lined streets are the epitome of South Florida living.
Brickell
Brickell is a fun neighborhood in downtown Miami. It is not only Miami's financial center, but it has fashionable boutiques, galleries, and lots of trendy bars and restaurants. Busy professionals choose to live in the condo towers overlooking Biscayne Bay. Residents love how walkable this entire neighborhood is.
Downtown
Downtown Miami is right in the heart of it all, with wonderful urban living that is just a short drive away from the beaches, parks, and other outdoor attractions that define South Florida living. It has everything needed for comfortable living, including restaurants, malls, and other shops.
Fort Lauderdale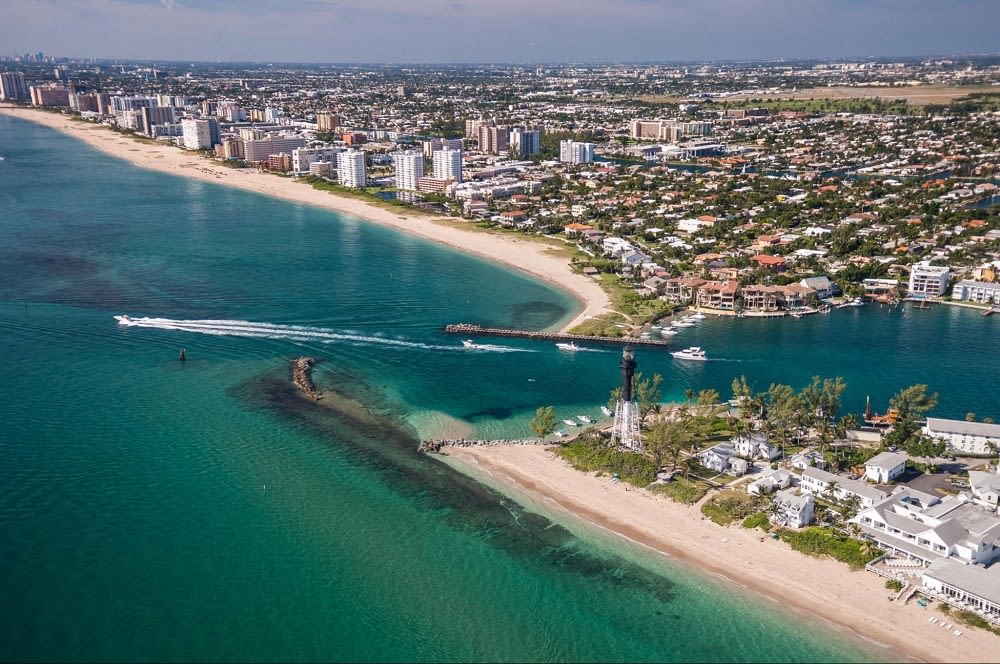 Fort Lauderdale
is another one of South Florida's jewels. Located about 30 miles north of Miami, this city of nearly 200,000 residents has it all. There are many delightful waterfront homes along the canals and waterways that give Fort Lauderdale the nickname "Venice of America" and make it one of the best nautical playgrounds in the state. Residents love The Strip, which is a promenade stretching along oceanside highway A1A that is lined with upscale shops, bars, and restaurants.
Boca Raton
Known for its funny name, Boca Raton is a city of 100,000 just north of Fort Lauderdale. It is another family-friendly city, with great schools and a long stretch of beach. It also has plenty of nature and culture, highlighted by Red Reef Park, which includes the Gumbo Limbo Nature Center, as well as the Boca Raton Museum of Art and the Mizner Park Amphitheater for entertainment events.
If you plan to move to South Florida in 2021, let
The Jessica Gulick Group
wow you with its extensive knowledge of the area and top-notch customer service.