Palm Beach County offers its residents one of the most unique and luxurious lifestyles anywhere in Florida. Or the U.S., for that matter.
Diverse neighborhoods with an array of high-end homes. An abundance of shopping and dining and nightlife. A rich cultural heritage and burgeoning arts scene. Outdoor pursuits are limited only by an individual's imagination.
Most importantly, Palm Beach County is home to excellent schools. Particularly important for those with families, the area boasts a standout collection of both public and private educational institutions serving a multitude of learning needs.
The county's private school roster is especially impressive. Regardless of where you live or your individual requirements, there's a school nearby to fulfill them. Let's explore the best private schools in Palm Beach County.
6200 Linton Boulevard, Delray Beach, 33484
Grades: Pre-K 3 to grade 12
Students: 1,700 students
Annual Tuition: $26,524 to $33,386
Student-Teacher Ratio: 6:1
The American Heritage School is consistently rated as one of the top private schools in Palm Beach County (they also have a Broward County Campus). The school focuses on giving students a fully formed, well-rounded education across academics (123 AP/Honors courses), the arts (60 fine arts courses), and athletics and extracurricular activities (over 85 teams and student-run clubs). The 40-acre campus is equally impressive, with multimedia production studios, college-level science, robotics, engineering labs, an instructional court room for the pre-law program, five athletic fields, a junior Olympic swimming pool, and a 12,000 square foot gym.
336 NW Spanish River Boulevard, Boca Raton, 33431
Grades: Pre-K 3 to grade 12
Students: 262 students
Annual Tuition: $12,500 to $21,850
Student-Teacher Ratio: 8:1
The first of three schools on our list that offer small, intimate settings for a child's education (fewer than 300 students), Grandview has spent the past 25 years preparing its students for higher education. Graduates have found success at storied institutions across the country, including Boston College, Cornell, Princeton, University of California - Berkeley, University of Florida, and Yale. Class size averages 12 students per class, allowing for a straightforward, hands-on learning environment. The 9-acre campus is situated in a residential neighborhood in northeast Boca, a mile from the Atlantic Ocean.
3600 Gulfstream Road, Delray Beach, FL 33483
Grades: Pre-K to grade 8
Students: 239 students
Annual Tuition: $17,155 to $27,465
Student-Teacher Ratio: 9:1
The Gulf Stream School has built its reputation of success by going beyond simple academic regiments and incorporating a focus on character building and promoting participation among its students—not just in school but also in the community. The smallest school on our list with only 239 students, Gulf Stream nurtures big dreams among its pupils. Graduates go on to attend and thrive at many of southern Florida's top private preparatory high schools (as well as many more esteemed academies out of state), including the four mentioned on this list.
7600 Lyons Road, Pompano Beach, 33073
Grades: Pre-K to grade 12
Students: 1,650 students
Annual Tuition: $24,200 to $44,840
Student-Teacher Ratio: 10:1
Don't let the name fool you—North Broward Prep's impressive 80-acre campus sits along the Palm Beach-Broward County line and serves as an exemplary institution for both communities. North Broward was originally founded in 1957 and has grown into one of the most respected private schools in the state. Personalized learning has been a key driver in the school's success. Over 30 countries are represented in the student body. The school is part of the Nord Anglia Educational system, which allows the school to connect with over 70 schools internationally through Nord's Global Campus.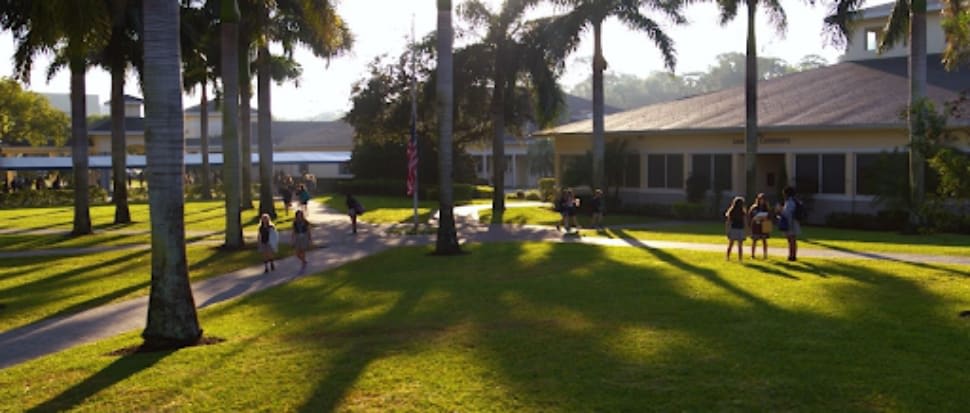 (Credit: North Broward Preparatory School)
2700 St. Andrews Boulevard, Boca Raton, 33434
Grades: Pre-K to grade 8
Students: 854 students (at Boca Raton campus)
Annual Tuition: $23,960 to $35,150
Student-Teacher Ratio: 9:1
Along with its Fort Lauderdale campus, Pine Crest stands as one of Palm Beach County's top educational destinations. Featuring three distinct schools—Lower, Middle and Upper—the school promotes academic, artistic, and athletic achievement at every grade level. Pine Crest first opened its doors in 1934 and expanded into Boca Raton in 1987. The Boca campus features a Lower and Middle School. The school currently has a $79 million endowment.
3900 Jog Road, Boca Raton, 33434
Grades: Pre K to grade 12
Students: 1,316 students
Annual Tuition: $26,650 for pre-K, $29,680 for grades K-5, $33,770 for grades 6-8, $36,280 for grades 9-12 ($63,310 for boarding students)
Student-Teacher Ratio: 8:1
Repeatedly lauded as one of the best schools of any kind in Southern Florida, Saint Andrews School is a truly international institution. As a college preparatory and boarding school, Saint Andrews boasts students from over 40 countries. Situated across an 81-acre campus, the site includes athletic facilities, performance art spaces, and a gallery for visual and media arts. The school is a member of the National Association of Episcopal Schools and was voted best private school in Palm Beach County by the Palm Beach Post in 2019 and 2020.
501 SW 3rd Avenue, Boca Raton, 33432
Grades: Pre-K 3 to grade 8
Students: 585 students
Annual Tuition: $12,150
Student-Teacher Ratio: 27:1
As part of the St. Joan of Arc Catholic Parish, the St. Joan of Arc School has been serving students (both parish and non-parish members) since 1960. In addition to its academic and faith-based curriculum, St. Joan's is a Florida Catholic Conference STREAM school (one of six out of more than 200 Catholic schools in the state) and is a U.S. Department of Education Blue Ribbon School of Academic Excellence. For students, the school has over 30 academics, sports, and fine art clubs.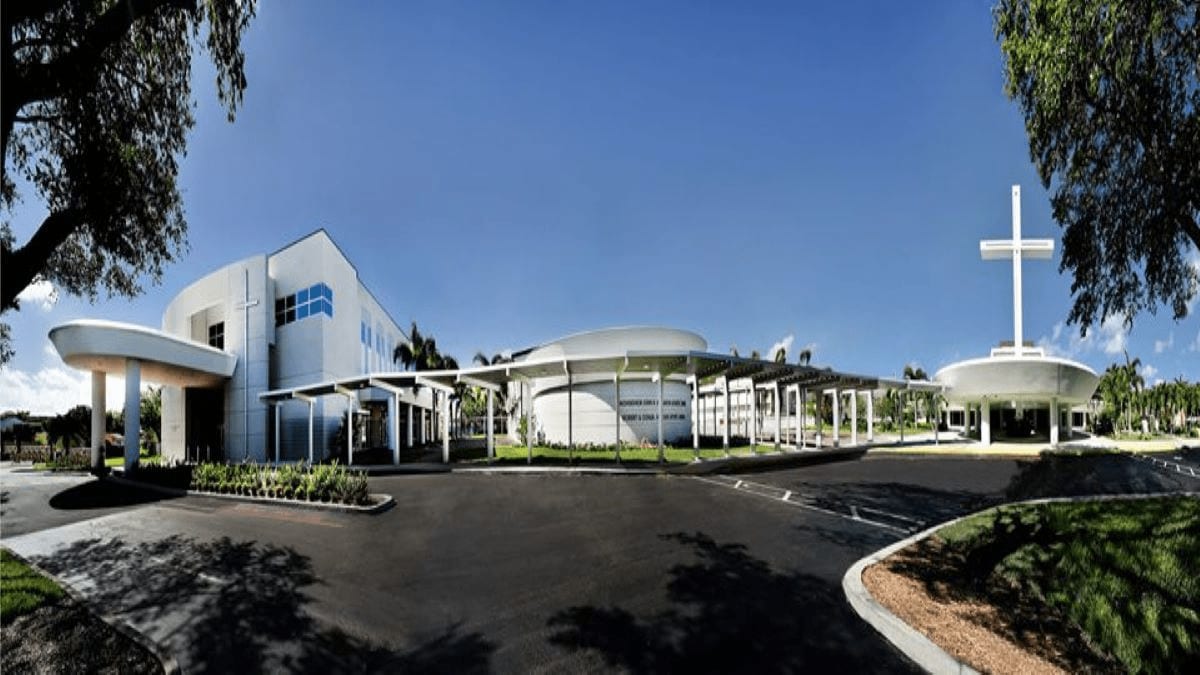 (Credit: Florida Catholic Tribune)
21689 Toledo Road, Boca Raton, 33433
Grades: Pre-K to grade 8
Students: 417 students
Annual Tuition: $9,840
Student-Teacher Ratio: 16:1
Opened in 1985, St. Jude offers students an early education program that focuses not just on academics and faith but also includes art, computer and media, music, and physical education. St. Jude provides a nurturing environment that allows students to "let their light shine." Extracurricular activities include clubs, ministry, service projects, and sports. The curriculum follows the standards set by the Dioceses of Palm Beach Standards and the Next Generation State Standards.
701 W Palmetto Park Road, Boca Raton, 33486
Grades: Pre-K 3 to grade 8
Students: 375 students
Annual Tuition: Contact school
Student-Teacher Ratio: 14:1
Established initially as a kindergarten in the early 1960s, St. Paul Lutheran School grew to include grades 1 through 5 in the 1970s and add grades 6 through 8 in the 1980s. St. Paul's works to support its students early, starting with a pre-K program designed to develop cognitive, emotional, physical, social, and spiritual skills before advancing to elementary school. From that point, in addition to its basic academic standards for both elementary and middle school, St. Paul features an advanced curriculum including technology, Spanish, athletics, art, and an excellent music program.
2400 Yamato Road, Boca Raton, 33431
Grades: pre-K 3 to grade 8
Students: 527 students
Annual Tuition: variable for early childhood, pre-K; $9,291 for grades K to 5, $10,462 for grades 6 to 8
Student-Teacher Ratio: 14:1
Located on the grounds of the Spanish River Church in northern Boca Raton, Spanish River Christina School first opened its doors in 1982. Since that time, the school has blended a Christian-faith based focus with a curriculum that includes core classes (math, science, language, reading, and social studies) and specialty courses (Spanish, art and music, physical education, computer, and accelerated reader program). The middle school program also features a life skills class and has an extensive list of electives, from archery to drama to robotics to video production.
400 N Swinton Avenue, Delray Beach, 33444
Grades: early childhood, pre-K 3 to grade 8
Students: 280 students
Annual Tuition: variable for early childhood, pre-K; $10,500 for grades K to 8
Student-Teacher Ratio: 17:1
With a history that dates back to 1948, Trinity Delray has long been a steady presence in educating the youth of Palm Beach County. Combining both academics and a deep sense of spiritual faith, the school is a Cambridge International School and adheres to its international education standards. Trinity Delray also features an early childhood development program that helps one and two-year-olds prepare to transition into kindergarten.
Ready to explore the best of Palm Beach County real estate?
Contact The Jessica Gulick Group today
to start your home buying journey. From Boca Raton real estate to Delray Beach homes for sale, allow Jessica and her team's years of experience and expertise to be your guide to the South Florida luxury real estate market.