South Florida has stunning canals, rivers, and oceanfront properties currently on the market. Waterfront homes are highly sought after due to the location's lavish amenities and unrivaled views. Owning South Florida waterfront real estate means breathtaking sunrises every morning and salty ocean breezes every night. If you wish to take advantage of everything South Florida's coast offers, buying waterfront property is the way to go.

Beachgoers, boat lovers, and homeowners experience endless summer fun between the glimmering Atlantic Ocean and the sparkling Intracoastal Waterway. From soaking up the sun on white-sand beaches to fishing from your private dock, waterfront properties encapsulate the best of Florida's timeless lifestyle.
Exotic Views
One of the most alluring aspects of owning waterfront property is the beautiful and natural views that follow. You can sit on your patio or by your bedroom windowsill and glimpse the open sea or wildlife reserve before you. Clear sublime sunrises and sunsets, birds soaring and singing in all their glory—you will never tire of your surroundings. In addition, impressing guests when you entertain is a sinch since you can barbecue and share stories over wine with a gorgeous sunset backdrop.



Tranquility & Privacy
Without neighbors living close by, you can luxuriate in peace and privacy. Traffic noise, pollution, and other frustrating city disturbances are a problem of the past when you live in a lavish waterfront home. Waterfront living is also ideal for boat enthusiasts since enjoying their favorite pastime is right around the corner, or better yet, in their own backyard via their private boat dock.



Health Benefits
Science supports your dream to live on the water, as
studies
have shown that people who live in waterfront homes have significantly lower stress levels. Living on the water melts away stress and encourages physical activity, meaning locals lead healthier active lifestyles. Breathing fresh air beside calming waves and away from boisterous city noise is beneficial for your mood, health, and well-being.
Warm Weather
South Florida has a tropical climate and boasts year-round warm weather and sunshine. South Florida waterfront living is a total lifesaver for those who suffer from health ailments or dislike cold weather. When you live in South Florida, you can leave your gloomy days and vitamin D supplements in your past.



Beaches
Beautiful beaches are invariably at the fingertips of waterfront property owners. Locals take full advantage of the warm water and exceptional vistas. Whether you prefer a secluded or lively beach, South Florida provides dozens of options; you are sure to find one to suit your objectives.
If you treasure an exclusive and quiet beach, head to
St. Lucie Inlet Preserve State Park
. This private Florida barrier island is accessible only by boat and features a boardwalk weaving through oaks and wild limes leading to the pristine Atlantic. During the summer months, the island becomes a vital nesting area for majestic loggerheads, leatherback, and green turtles that can be seen swimming ashore at night to lay their eggs in the sand. People visit the park to swim, sunbathe, and picnic at the pavilion. This beach is also popular for snorkeling, scuba diving, and surf fishing.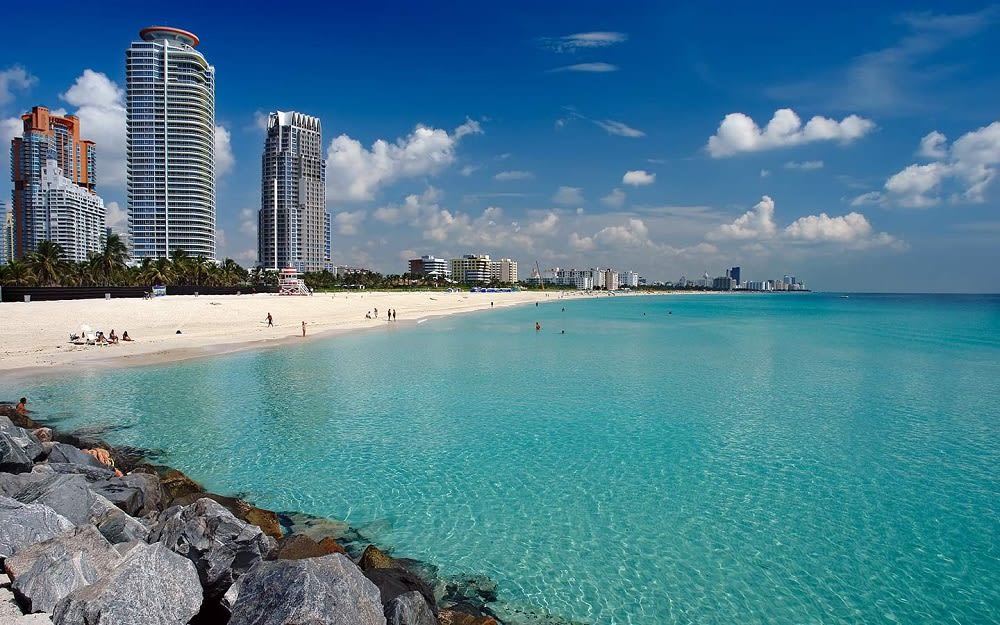 Credit: South Beach
South Beach
is a vibrant Miami neighborhood with a world-renown beach. Locals slip on their bikinis and head to the coast to work on their tan and socialize under the beaming South Florida sun year-round. Active locals head to
Lummus Park
to swim, work out at the two outdoor gyms, take fitness classes, and rollerskate the beachfront path. Once visitors have had their fill of the beach, they stroll the streets of South Beach to shop the many boutiques, dine at excellent restaurants, and relish fantastic people-watching.
Outdoor Recreation
Having dozens of beaches to visit makes South Beach perpetually attractive. Besides the classic salty swim and sunbathing, there are plenty of recreational pursuits to enjoy on the water. Jet skiing, boating, kayaking, standup paddle boarding, and fishing are just a handful of waterfront activities available here.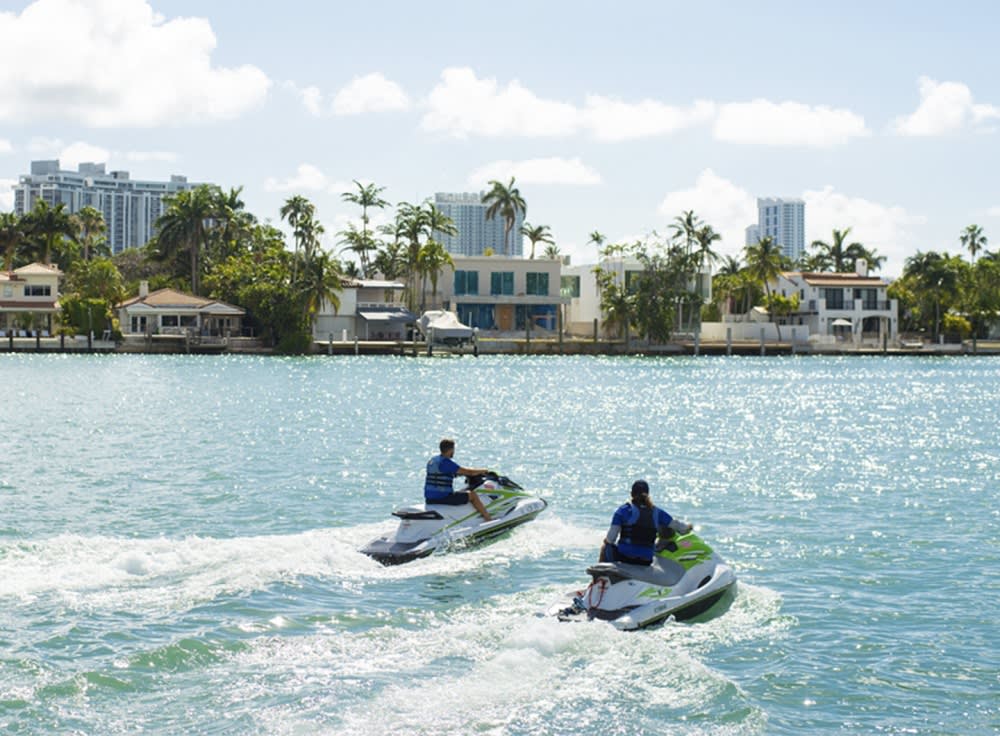 Credit: BouYah Watersports
BouYah Watersports
has locations throughout South Florida where folks of all ages can rent top-quality water sports equipment to spend the day delighting in thrilling and relaxing waterfront activities. Rent a banana boat to make lasting memories with your family or soar above the water like never before with a parasailing tour.
If you're looking to reel in a fresh catch or enjoy a family island adventure, visit
Day 5 Charters
. Anglers are welcome to fish for tarpons and sea trout during daylight or partake in monster shark fishing after dark. Day 5 provides all the necessary gear, bait, and even the fishing license! Captain John Gauntt is thrilled to take you to the best shelling spots on the Florida west coast or guide you through an island adventure complete with fishing, shelling, and sailing to boat-access-only islands while spotting dolphins, manatees, and birds along the way. Dine at boat-access restaurants or go to deserted islands—it's all up to you to customize your excursion.
Nature enthusiasts who prefer to stay on land for wildlife exploration have many opportunities to do so.
Hugh Taylor Birch State Park
is Fort Lauderdale's "Central Park," offering gopher tortoise sightings and boat access from the Intracoastal Waterway. Here, you can spend a weekend camping and roasting s'mores with friends, viewing spectacular wildlife, bicycling, picnicking, hiking, swimming, and much more.
Big Cypress National Preserve
is the premier destination for South Floridians to get outside and cherish the splendor and majesty of the natural landscape that envelops them. Travel the two scenic drives, explore Big Cypress with an all-day hike, kayak or canoe through the preserve, plan a camping trip, or go on an adventure with a Big Cypress Institute exploration trip.
Nightlife
South Florida comprises many cities, several of which are famous for their vibrant nightlife scenes. Some of the best cities to get social and bar-hop are Miami and Palm Beach. Let's dive into some dynamic discos and clubs.
Dress to impress and strut through the doors of Miami's
LIV
nightclub. This ultra-lavish, ultra-boisterous club has seen top performers and DJs, including Chance the Rapper, Pitbull, Ruby Rose, and Flo Rida. At an expansive 18,000 square feet, fit Floridians drink and dance the night away.
Swing by the iconic
Palace
to experience Miami Beach's number one drag bar and restaurant. Here you can sip on craft cocktails, feast on delectable eats, and enjoy daily live entertainment. If you fancy a bar to pick up a new beau or dance with your girlfriends free of inhibitions, head to "the gayest bar in Miami Beach,"
Gaythering
. The seasonal bar menu features creative cocktails, and every night offers a different activity, from karaoke Monday to trivia night.
Copper Blues
is Palm Beach's meeting point for brews, tunes, and grub. All beer lovers, foodies, and rock stars are welcome! This brewpub is a must-visit with over 60 beers on tap, delicious bar bites, and some of the hottest local rock and blues acts showcasing their talents. For a convivial vibe, rooftop dancing, and award-winning chicken wings, go to
Roxy's Pub
. This Irish pub and nightclub is a multi-storied hangout perfect for watching the game, knocking back a couple of cold ones, and dancing to blasting house music.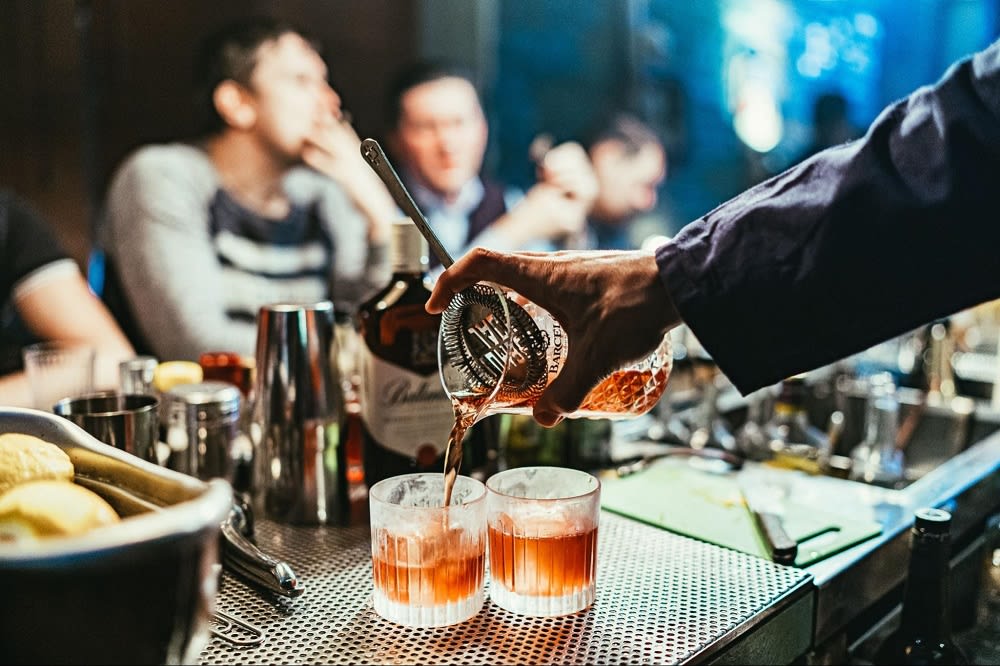 When you desire more than a strong drink and need a good laugh, head to Improve in Palm Beach.
Improv
is one of the most coveted comedy clubs with locations across the nation. The West Palm Beach venue features esteemed entertainers week after week, including Bob Saget, Tracy Morgan, and Sinbad. You're guaranteed to have a few laughs and even nosh some tasty food when you stop by for a comedy show.
A Worthwhile Investment
Waterfront property is a highly beneficial investment that appreciates over time. Given that waterside properties are typically few and far between, they retain their value over more extended periods than city dwellings. Along with excellent resale value, waterfront homes can be rented out to eager vacationers. People who vacation on the water love it for the same reasons you wish to buy a waterfront home. ]
If you'd like to learn more about living in South Florida,
reach out to me today
for more information about Boca Raton homes for sale, Delray Beach luxury homes, or Fort Lauderdale real estate.