If you've been thinking of investing in real estate in sunny South Florida, 2022 could be your year. Several factors make now a good time to buy a second home that can be used as a vacation home, a rental, or a combination.

Among the factors are plenty of jobs, the unmatched quality of life, and the fact that people continue to relocate to the Sunshine State in droves. All those people need a place to live. Many people can't afford the rising home prices in South Florida, which means they need places to rent.

There are several great communities with great real estate all along the South Florida coast, from Miami to Fort Lauderdale to Boca Raton and points in between.
Top communities for investing
South Beach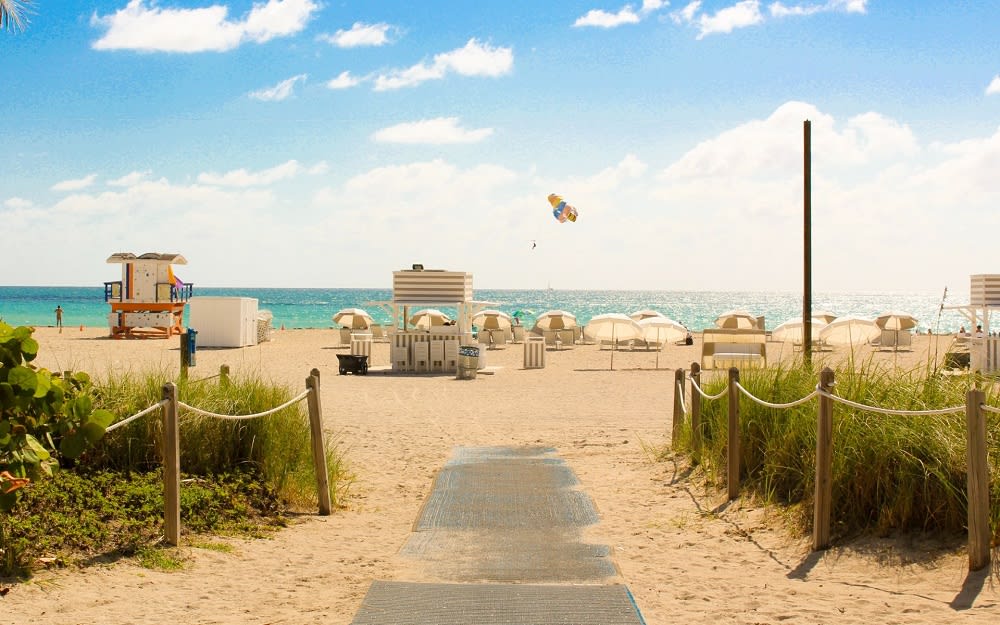 South Beach
is by far the best-known and most-glamorous community in South Florida. It's known for its wonderful beaches, celebrities, fine dining and shopping, the historic Art Deco district, and gleaming condo towers. The median price of real estate in Miami Beach, which includes South Beach,
is $699,900
. That's a jump of 17.7 percent in the last year. While condos in high rises are extremely popular, condos can also be found in low-rise buildings. South of Fifth is an upscale neighborhood that is quieter and more residential than the rest of the island.
Coral Gables
Coral Gables
is a comfortable, upscale suburb just south of downtown Miami that is favored by real estate investors. Coral Gables features both single-family homes and condos on leafy streets. There are also mansions and waterfront homes favored by wealthy residents. Coral Gables is considered more cultured than South Beach. It is home to the University of Miami, the Biltmore Hotel, and the Miracle Mile, which is a swanky collection of shops, boutiques, galleries, and restaurants. The average price of Coral Gables homes
is $1,495,000
. That's up 26.2 percent over the past year.
Fort Lauderdale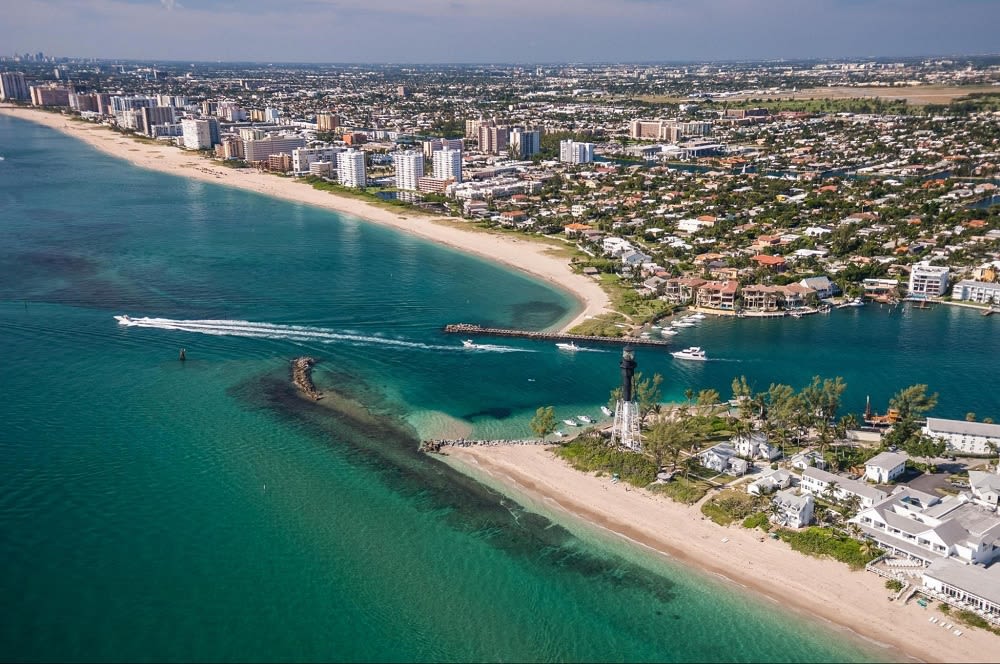 Fort Lauderdale
is about 30 miles north of Miami and has its own vibe and identity. It has many wonderful neighborhoods and developments along several canals and waterways, earning it the nickname "Venice of America." The city of about 180,000 residents is a popular vacation destination because of its golden beaches and boating, which provides a steady stream of income for investors who own rental properties. One of the most popular neighborhoods in Fort Lauderdale is Las Olas, which is known for fabulous waterfront homes, many with their own docks. Las Olas Boulevard is the place to go for great shopping and dining. The median price of Fort Lauderdale homes
is $749,945
, a jump of 23.1 percent in the last year.
Boca Raton
Boca Raton
is a city of about 100,000 just north of Pompano Beach. It is a pleasant community known mostly for its recreation and vacation activities such as beaches, golf courses, tennis, boating, and nature preserves and parks. It also has burgeoning art, culture, and entertainment scene anchored by the Boca Raton Museum of Art and the Mizner Park Amphitheater. Boca Raton has beautiful single-family homes in gated communities and condos along the water.
Deerfield Beach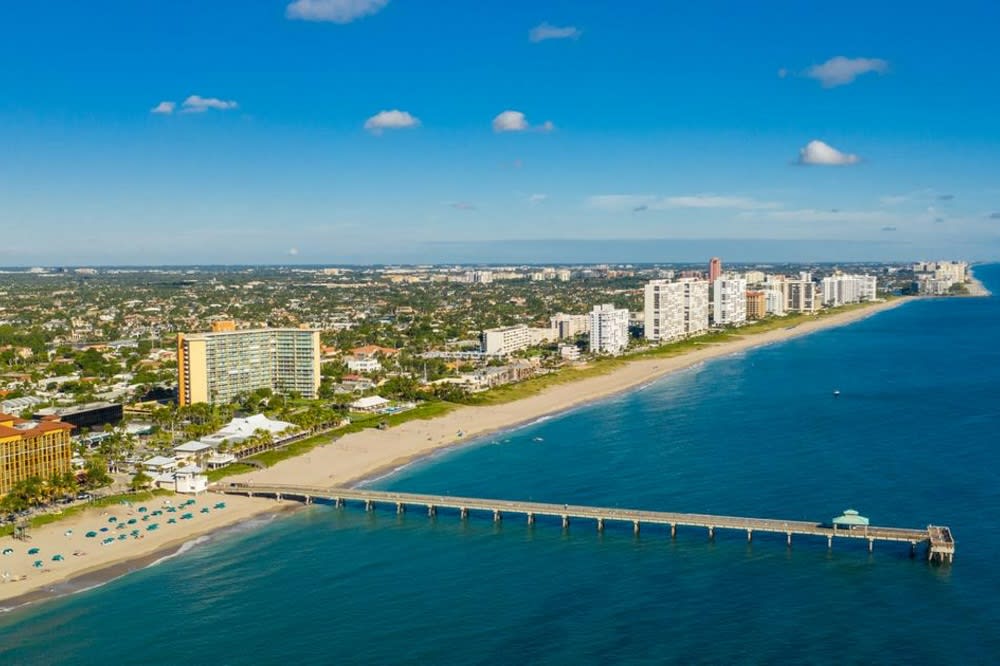 Image courtesy of Kayak
Deerfield Beach
is a wonderful beach town just south of Boca Raton that has a slower, more relaxing pace than other South Florida communities. It also has much more affordable homes, making it a perfect place for real estate investors to find great properties. Deerfield Beach has plenty of natural beauty, starting with its beach and pier that juts into the Atlantic Ocean. Deerfield Beach also has a unique wakeboard and waterski resort. Locals love to support local merchants in the charming downtown.
Delray Beach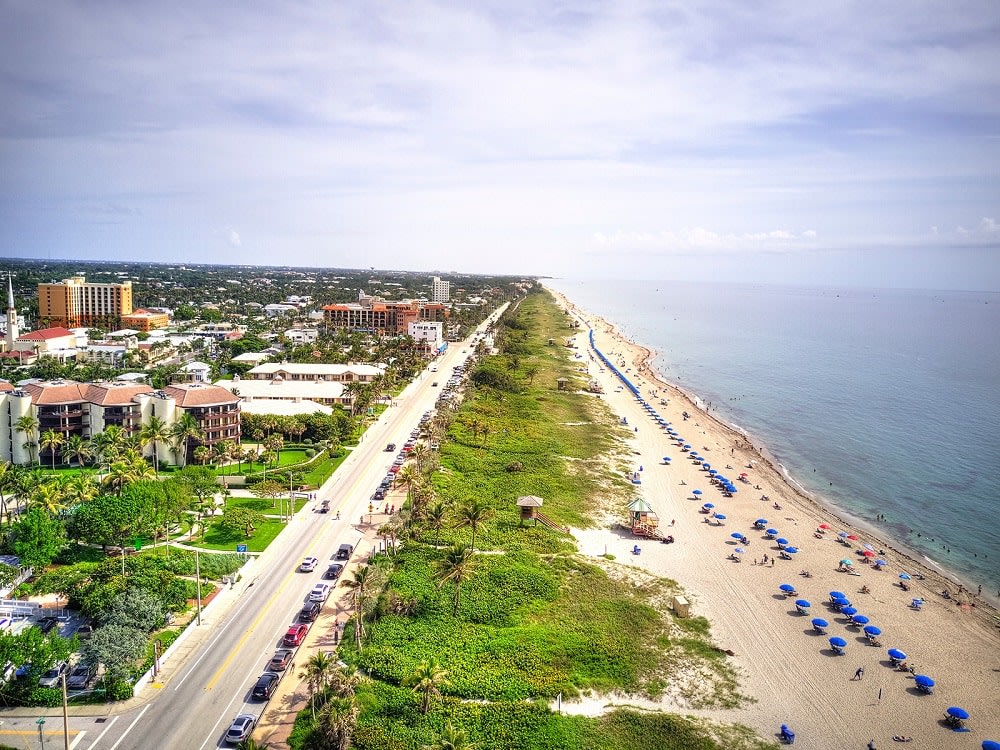 Image courtesy of Airbnb
Delray Beach
is another classic beach town north of Boca Raton and south of Palm Beach. The population of about 70,000 gives it a comfortable feel for both residents and vacationers alike. Investors can purchase luxury homes and condos on the waterfront, as well as single-family homes throughout the community.
Reasons to invest in real estate
One of the main reasons people invest in real estate
is to provide steady rental income. They also receive tax breaks, and their property appreciates. There is always an abundance of renters because many people have been priced out of owning their own homes. Many people who invest in real estate in South Florida have chosen to focus on buying condos rather than single-family homes.

Other people use investment property as a second home. Whether it's a single-family home or a condo in a high-rise tower on the beach, a second home is a great destination for summer vacations, the holidays, and long weekends. When not using the residence, owners can rent it out and bring in income that will help defray the cost of having to carry a second mortgage as well as the cost of homeowners insurance, maintenance, and any emergency repairs that pop up.
Hire an agent
The smartest first move toward investing in real estate is to hire a terrific South Florida real estate agent. Once you have a general idea of which community you'd like to invest in, begin researching agents who have years of experience in that area. As you interview agents, find out if they focus on helping clients find investment properties. The good agents know which neighborhoods are good for second homes and rentals. They are also well versed in recent pricing trends.
Invest in South Florida real estate
These are among the best South Florida communities for real estate investing. Several others are attractive to investors. If you are ready to jump into the investment market, let
The Jessica Gulick Group
put its expertise and top-level client services to work for you.