South Florida is blessed with some of the best beaches and waterways in the world, giving Palm Beach homeowners a wide range of water activities to enjoy year-round. The best way to take advantage of this natural playground is to join one of the area's many beach clubs and/or yacht clubs.
It's one thing to simply go to the beach, but joining a beach club takes it to the next level. Beach clubs stand out for their luxury, comfort, convenience, and privacy. Beach clubs offer cabanas, beach chairs, chaise lounges, and umbrellas to help members enjoy a first-class experience on private stretches of sand. Many beach clubs also offer rentals that cover the gamut of beach fun, including kayaks, standup paddleboards, scuba equipment, snorkeling gear, and more. Many beach clubs provide private attendants and activities for kids.
There are many other amenities to enjoy at beach clubs, including food and beverage service, changing rooms, showers, and access to swimming pools, restaurants, and bars. Many beach clubs are operated by luxury hotels and resorts that line the waterfront.
For boating enthusiasts, there are many yacht clubs and marinas up and down the coast. Florida is the undisputed boating capital of the United States, with thousands of boats plying the Intracoastal Waterway and the Atlantic Ocean in South Florida alone. The Florida Keys are a great destination for boaters of all kinds, both for day trips and multi-day excursions in powerboats and sailboats.
Housing in Fort Lauderdale remains extremely popular as more people continue to move to the Sunshine State for its outstanding quality of life and the fact there is no state income tax. The median price of Palm Beach homes for sale is $436,665. That's an increase of 20% in the past year, an indication of how popular the area is.
Here are some of the best beach clubs and yacht clubs to join in South Florida:
Boca Raton Beach Club
Credit: Agoda
The Boca Raton Beach Club is one of the many posh amenities at the Boca Raton, a resort that features five luxury hotels. The Boca Raton Beach Club offers unique beachside experiences, with access to the half-mile stretch of golden beach as well as the resort's three swimming pools. There are luxurious daybeds at the beach and cabanas at the pools.
At Boca Raton Beach Club, enjoy the food and beverage service highlighted by a beachside Airstream kitchen that offers a pop-up dining experience provided by visiting chefs. There are indoor and outdoor lounges that serve food and cocktails. Part of the Beach Club experience is to sip a cocktail while enjoying the ocean views and listening to live music.
Seagate Beach Club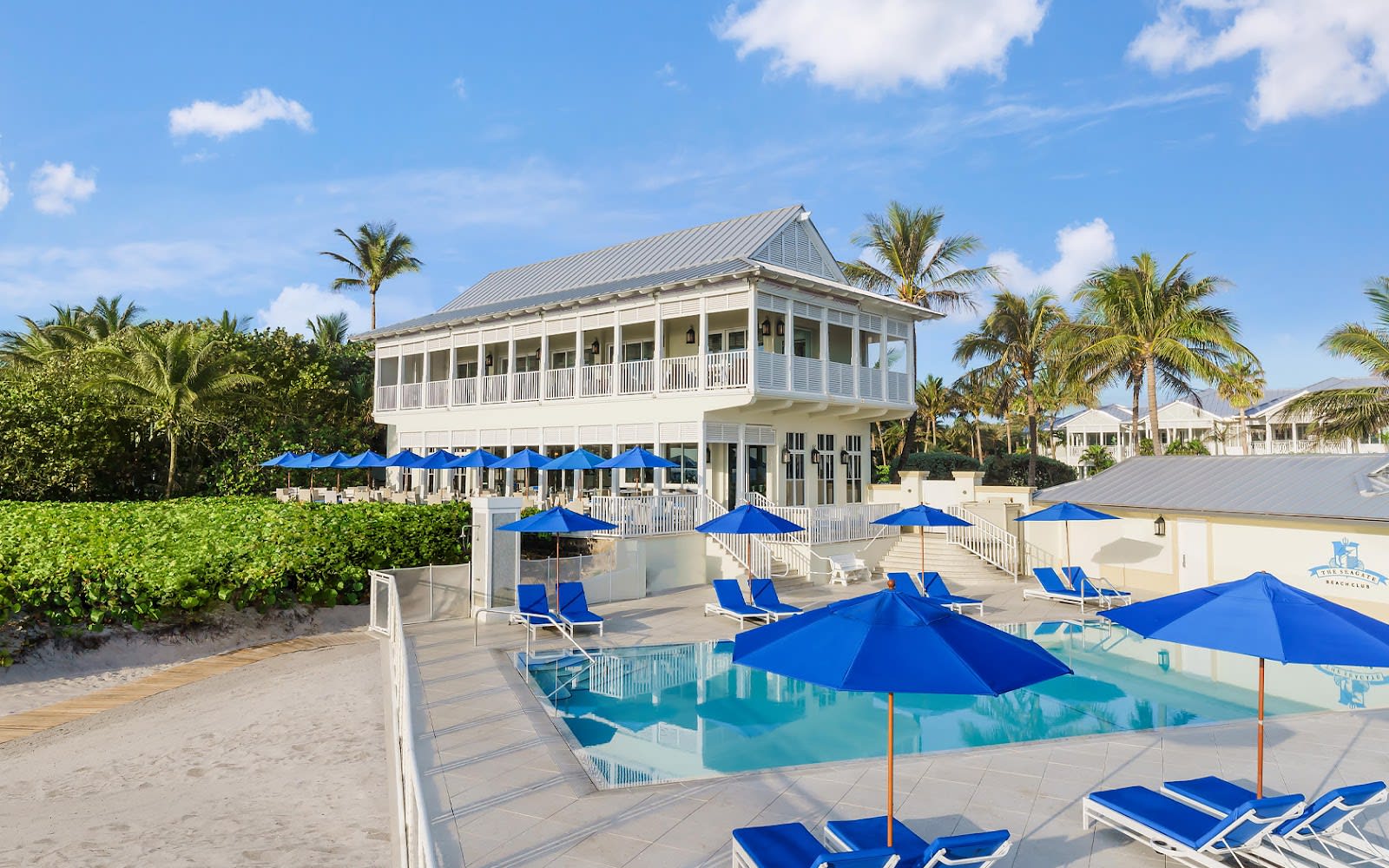 The Seagate Beach Club is a sparkling private oceanfront club at the Seagate Hotel & Spa at Delray Beach that offers the best in luxury and privacy. The beach house is built in a style that evokes both Key West and the Hamptons, and the vivid blue umbrellas and beach chairs stand out against the golden sand and the whitecaps of the water. Members can choose to relax on the beach or by the side of the saltwater swimming pool. Amenities include poolside and beach drink service, cabana rentals, towel service, beach, and poolside chairs, and umbrellas. Members can also rent water sports equipment. There is a casual dining room and outdoor patio on the beach level that offers lunch and dinner. Upstairs there's an upscale restaurant that serves seafood and steaks.
The Seagate Yacht Club is a state-of-the-art marina that has 44 slips that can accommodate boats ranging from 40 to 120-feet long. Amenities include a lounge, laundry, ship store, free parking, free Wi-Fi, and a sun pool. Slips can be rented for the day, month, or year.
Delray Beach Club
The Delray Beach Club is a private member-owned beach club that consists of 3 ½ acres of prime oceanfront property loaded with amenities. The club opened in 1969 and was recently renovated. It is a family-oriented club geared for all ages that offer a wide range of activities. This private beach is a perfect place for sunbathers and swimmers who can relax in cabanas. There is a heated swimming pool, tennis courts, spa, and restaurants in the clubhouse. There's a kid's camp and an active social calendar for adults that includes pool parties, cocktail parties, happy hour, holiday parties, themed dinners, and other entertainment.
Lauderdale Yacht Club
Lauderdale Yacht Club is a classic private club that was founded in 1938 and counts residents of luxury Palm Beach homes as members. The stately clubhouse and the many facilities are located right in the heart of the Fort Lauderdale waterfront just off the Intracoastal Waterway, with easy access to the Atlantic Ocean. It offers a full range of sailing activities for youth and high school students, as well as an Olympic-sized swimming pool, tennis court, fitness center, and fine dining. There are 65 dock slips that wrap around the marina.
Coral Ridge Yacht Club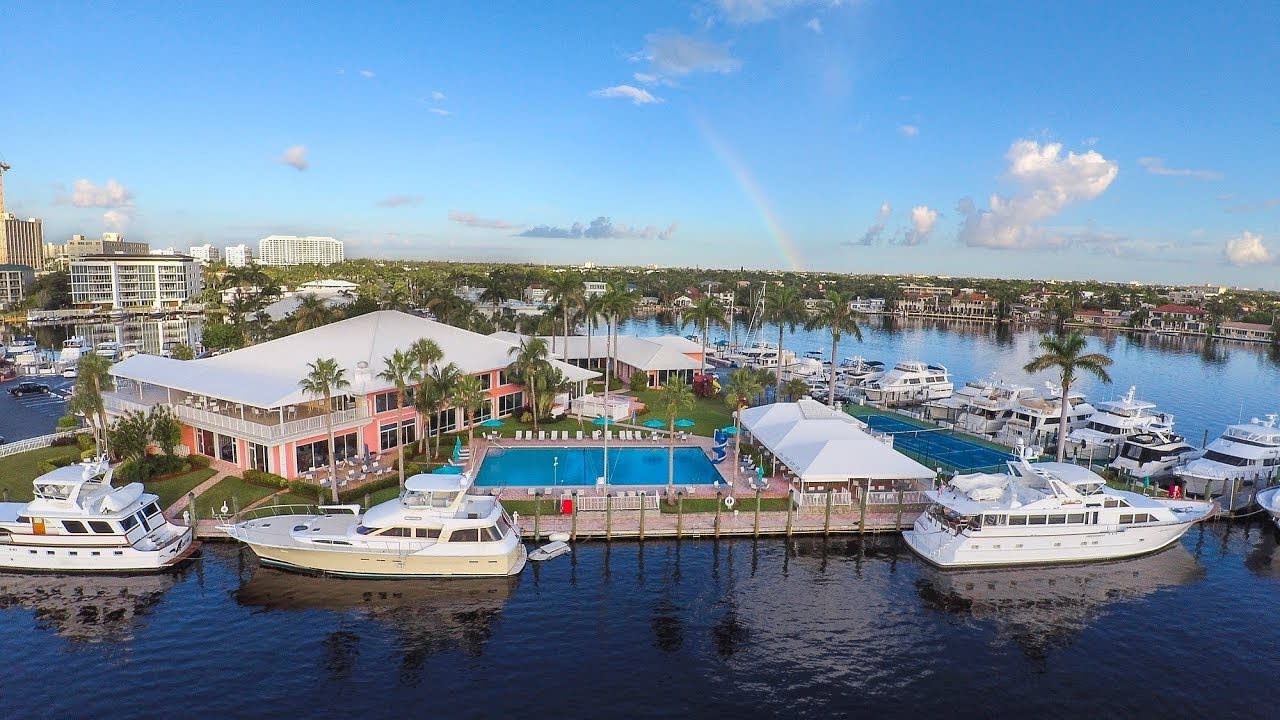 Credit: Coral Ridge Yacht Club
The Coral Ridge Yacht Club has been one of Fort Lauderdale's leading yacht clubs since 1947. The large club is located on the Intracoastal Waterway just north of East Sunrise Boulevard and can't be missed because of its bright, coral-colored clubhouse. It offers a wide range of activities that include boating, swimming, tennis, fitness, and several options for dining. There is also an active social calendar.
Palm Beach Yacht Club
Founded in 1890, the iconic Palm Beach Yacht Club is both the most active private club in the Palm Beach area and the oldest established business in West Palm Beach. Operating from a prime location on the Intracoastal Waterway, the Palm Beach Yacht Club offers members a full range of boating activities as well as fine dining and an extensive social calendar.
These are just a sampling of the best beach and yacht clubs to join up and down South Florida's unmatched coastline. If you plan to purchase one of the Palm Beach homes for sale, let The Jessica Gulick Group wow you with their extensive knowledge, experience, and client services.